From tangible gains in sustainability to community outreach and COVID-19 relief, learn what our programs have achieved and how your donations were put to work.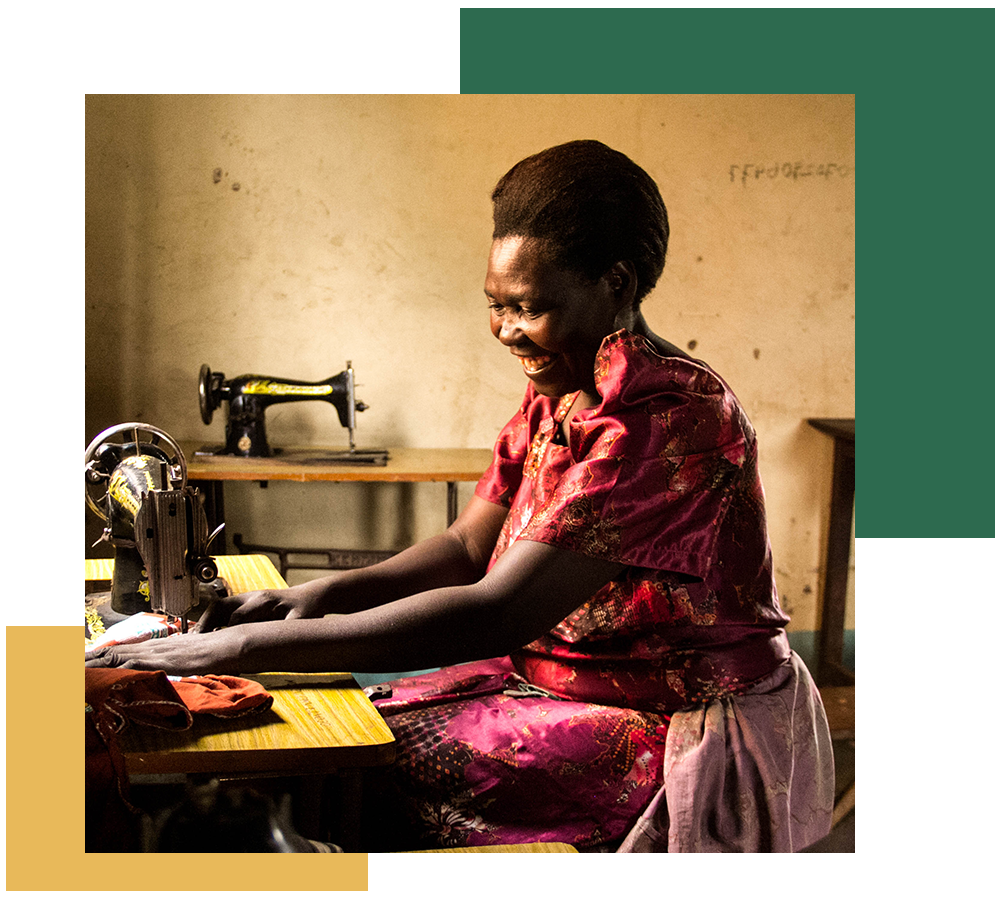 Dear Musana Family,
2021 was another immensely difficult year for the world, but it was especially challenging for developing countries like Uganda. With the continued threat of COVID-19, lockdowns remained in place, killing already struggling businesses and leaving 15 million children out of the classroom for the second year in a row. In addition to the devastating economic and social impacts of the pandemic, Uganda experienced a historical presidential election which increased fear and uncertainty throughout the nation. Through these challenges, we were once again reminded of the strength, resilience, and perseverance of the Ugandan people and God's hand in Musana. We were also humbled by the generosity and selflessness of our partners and global community.
When the news spread that schools would not be reopening in the spring of 2021, we refocused our energy and resources to create a home-school program that provided in-person classes and educational support to over 12,000 children in their villages. We also extended our relief efforts by continuing to deliver meals to vulnerable families and support our 385 employees with an income. As the year progressed, we began to observe other challenges stemming from the impact of COVID. The most alarming include: permanent closure of many private schools that couldn't bounce back economically from the closures, an overwhelming number of new teenage mothers, and a devastating percentage of anticipated student dropouts. With this, our problem-solving shifted from immediate access to education, to solving for the fast-approaching future needs of Uganda's youth once the government reopened schools.
Anticipating an education crisis, we invested $1,748,268 in capital infrastructure to improve and expand our current campuses, build another nursery and primary school campus, and purchase land to prepare for a new vocational high school campus. These development projects, funded by you, our generous donors, allowed our student attendance to increase from 3,400 in January 2020, to 5,300+ in January 2022. From the success of our annual golf tournament, we also began construction on a new hospital in Kaliro District that will open to the community in May 2022.
Looking back at 2021, we are overwhelmed by the community of Ugandans, and international supporters, that have fallen in love with Musana's vision and made it their own. It is a true testament of God's abundant provision, protection, and plan. Thank you for being a part of our sustainable solution and investing in the Ugandan people so they can lift themselves out of poverty. Together, we will continue to transform more communities.
God Bless,

Andrea and Haril Kazindra
Co-Founders and Directors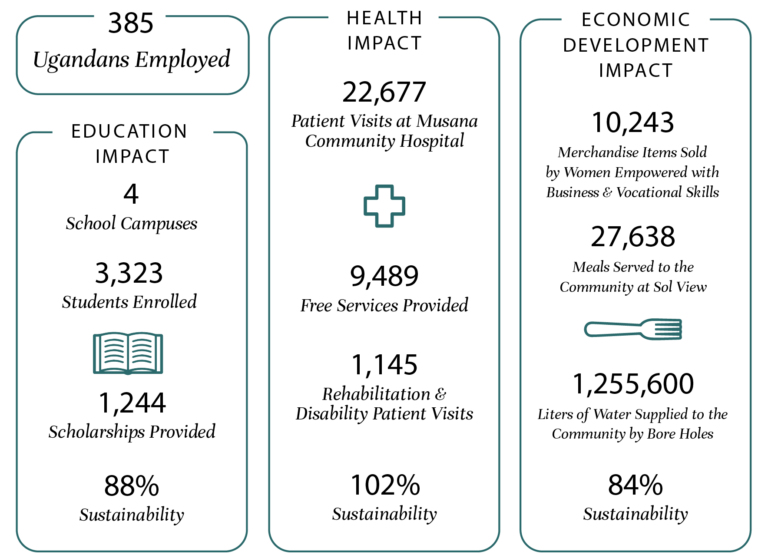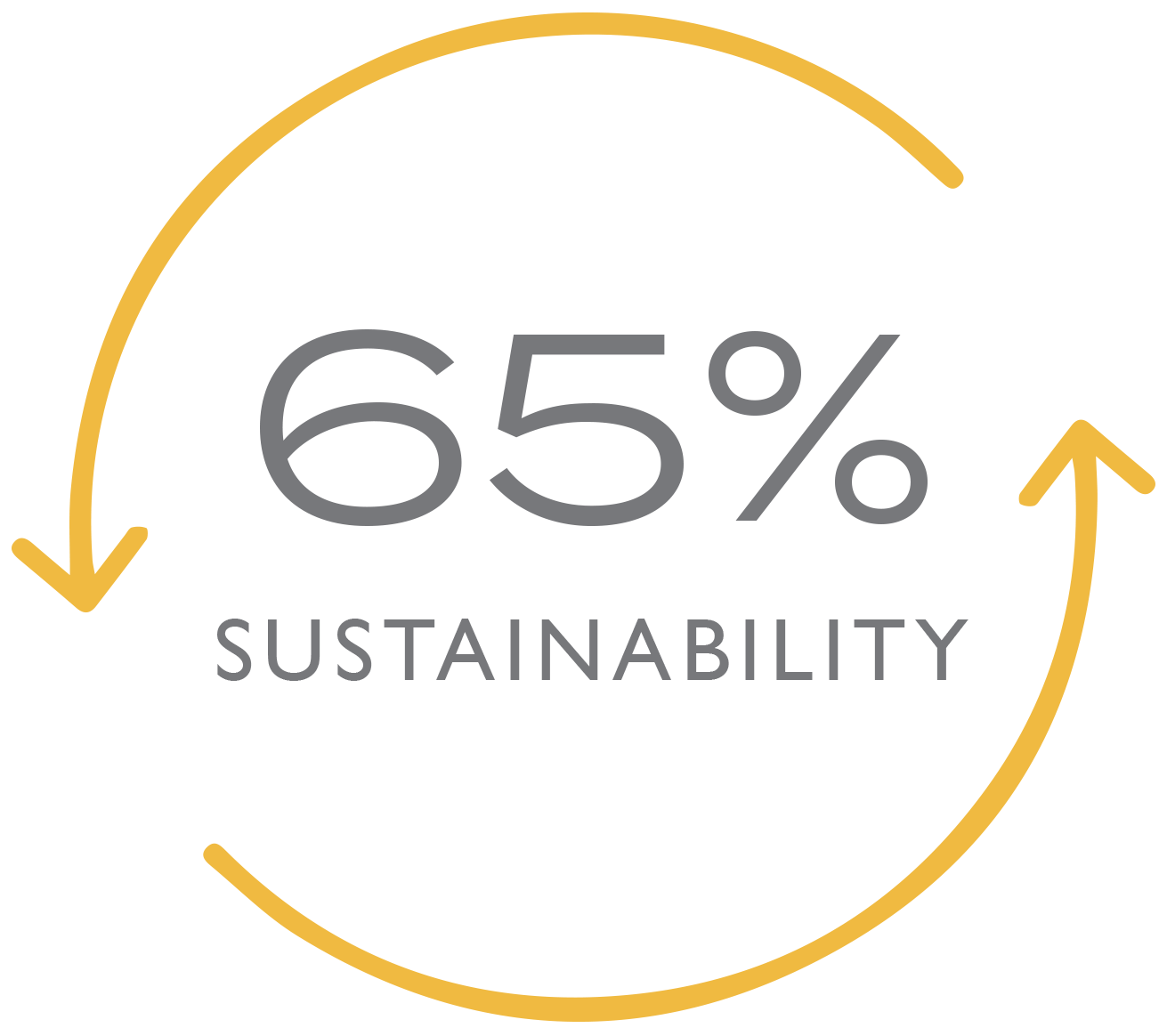 Despite all schools being closed for a majority of the year, we were able to achieve 65% overall sustainability across Musana's social enterprises.
past annual impact reports